We would like to welcome all beekeepers to visit the Haywood County Beekeepers Chapter (HCBC) of the North Carolina State Beekeepers Association and it is our hope that the information contained in this website will enlighten and inspire about honeybees. Our goal is to offer information and encouragement to beekeepers of all levels as together we learn and grow in our desire to care for bees as we help our local community to understand more about these busy pollinators of the environment.
Haywood County Beekeepers Chapter (HCBC)
Since 2012, HCBC has grown to over a hundred honeybee enthusiasts; mostly as hobbyists who manage only a few hives. However, the club does have members who are certified, journeyman, or master beekeepers with varying ranges of expertise, some of these members have over forty-years of beekeeping experience. During any typical HCBC meeting, you will find beekeepers who share a common interest in learning more about bees and their habitat, while sharing knowledge with others in the club.

General Information
Monthly Meetings
First Tuesday at 7:00 PM
Haywood County
Cooperative Extension
589 Raccoon Road
Waynesville, NC 28786


Mailing Address:
Haywood County
Beekeepers Chapter
P.O. Box 1391
Clyde, NC 28721
As beekeepers, we understand the impact that bees have on the environment and on our society, because honeybees pollinate crops that are responsible for one out of every three bites of food that people consume. From a national perspective, this represents a fruit, vegetable, and crop industry totaling more than $14 billion dollars that allows local communities to grow food. Additionally, honeybees pollinate many plants in the natural landscape, And, there is always lots of honey to go around. Below are a few of the annual activities and services that the Haywood County Beekeepers Chapter provides to its members and the community:


In cooperation with the

Haywood County Extension Center

, the club hosts two bee schools every year; a Beginning Beekeeping School and an Advanced Beekeeping School, usually beginning in January or February. These courses can teach you everything you need to know to get started as a beekeeper.

Every April, at the request of area beekeepers, a bee inspector will visit your bee apiary to address any concerns you may have. These inspections are arranged in cooperation with the Haywood County Cooperative Extension service and the North Carolina Department of Agriculture.

The club participates in many of the local seasonal festivals where volunteers share their knowledge of the honey bee with the use of an observation hive and educational materials.

On school days, you can find our willing beekeeper volunteers at some of the local fairs displaying educational bee materials and answering questions by interested visitors.

An experienced club member will gladly assist you in removing a swarm of unwelcome bees from your property, contact one of our swarm removal members.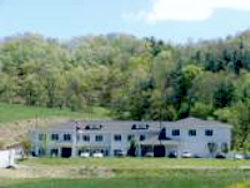 Find a Bee Mentor
September 6, 2022
Our next meeting is scheduled for at 7:00 PM at the Haywood County Extension Center. A mask is optional, so bee safe. The speaker for the evening is Beth Sain Journeyman Beekeeper of the North Carolina Beekeepers Association, who will discuss how to render bees wax for various uses.
Atreya Manaswi is a 10th grade student at Orlando Science High School in Orlando, FL. He has been involved in university level laboratory academic research since the age of twelve and has won regional, national, and international awards for his extensive honey bee conservation research. In his four years of honey bee conservation research, the USDA, and University of Florida (UF) have funded his novel research projects. In 2021, he was recognized as one of the nation's leading top 30 youth scientific minds in the prestigious Broadcom MASTERS STEM Competition amongst 10 million students across the country each year.
Amongst this pool of top 30, he was recognized as the 1st place national winner in the category of Scientific Research. In 2022, he was selected as the winner of the At-Large BioGENEius Challenge (as one student from across the entire US) and qualified for the 2022 International BioGENEius Challenge where he was named the highest honors awardee. He is also a very active public speaker and actively uses STEM as a catalyst to make positive reform in the community. In July 2022, he was also invited to speak at the United Nations CBD's GYBN on his honey bee research as an invited speaker. Through his speaking at various forums across the globe, he has impacted an audience of 21,000 individuals. Atreya is also an enthusiastic actor and performing artist having been involved in countless theatrical productions since the 3rd grade, often starring as the lead antagonist role.
Recently, Atreya played the lead role in a play at his school which focused on mental health/suicide awareness. He is also a practiced acoustic guitarist, having played for 5+ years, and enjoys playing for his community. He holds a 2nd degree black belt in Taekwondo which he has pursued for the last 8 years. All in all, Atreya is a high-energy, dedicated, motivated, and passionate individual with a willingness to grow and share his experiences with others. He takes pride in being a youth STEM leader with a fervent belief in the power of science and the youth's ability to transform our globe.
Keith Stiles,
Vice-President, Haywood Chapter Bee Club
One of our favorite club activities is recruiting new beekeepers. You can join the hive by completing an HCBC membership form and mail it to Haywood County Bee Club, PO Box 1391, Clyde, NC 28721, along with a check for the amount indicated on the application. Better yet, print out the membership form and bring it to one of our monthly meetings!
Meetings are held on the first Tuesday of each month from 7:00 p.m. to 8:30 p.m., at the Haywood County Extension Center. Guests are always welcome to come and enjoy the buzzing activity, because we care about sharing beekeeping knowledge with each other, and our community.


Honeybee Swarm Removal Team