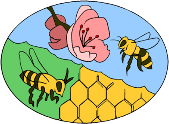 Membership Form

Storm Preparation -
Hi everyone,
The uncertainty of tracking of hurricanes leads us to some important considerations for beekeepers who may be affected by the heavy rain and winds. Please disseminate to your local network of beekeepers, concerning these tips for keeping your hive safe.
First, make sure hive equipment is secured to resist strong winds. A simple brick on the top-lid may be insufficient to keep it from flying off in winds above 50 mph. A lid-less hive causes problems for the bees by introducing moisture and letting precious heat escape. Strapping the lid down or securing with duct tape might be in order, particularly for outlying yards. The same is true for hive boxes, particularly if they are relatively new (i.e., the bees have not yet propolized them together sufficiently).
Second, make sure each hive is setting on sturdy stands or level ground. Entire beehives can be blown over by strong winds, particularly when they are tall with many honey supers or are otherwise top heavy. If the hives are on tall or insecure stands, you can move them onto (dry) level ground temporarily to lessen the chances that they topple.
Third, make sure the hives are not in low-lying areas, or those prone to flooding. River banks can be useful apiary locations because of their proximity to fresh water, but in flooding conditions entire apiaries can be tragically swept away. Thus, move all beehives located in flood-plains to higher ground, until the flood waters have subsided. Beehives that are sitting on the ground and in recessed areas can cause water to flood the entrances and this may even suffocate the bees, if not given an upper entrance.
Finally, following heavy rains like hurricanes, various local and state agencies have traditionally sprayed regions with stagnant water to control mosquito outbreaks. Take precautions, such insecticides can be extremely problematic for honey bees. If you are registered through the North Carolina Department of Agriculture (NCDA) & CS, you will be contacted directly if your beehives are in an area schedule to be sprayed. If you are not registered, however, the state has no means to notify you and your bees may be at risk to insecticide exposure. Please consult the Agricultural Chemical Manual for information and advice about how to mitigate exposure to pesticides.
Hope your bees stay safe and dry!
Sincerely,
Dr. David Tarpy, NCSU Apiculturist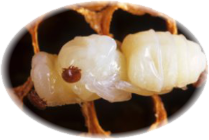 The Varroa mite (red)
Review the "Stress-less Method" for conducting a "Sugar-shake" varroa test.

Terramycin
A LESSON LEARNED- by Rich Byers
Haywood County Beekeepers Chapter
To make a long story short, several of my spring hives got off to a very slow start this year, 2017. The progress was slow enough that there were still only 3-4 frames of spotty brood by the time tulip bloom arrived. Someone suggested that the hive may have European Foul Brood (EFB) and even though I kept a consistent feeding of the colony, the hive continued to show a spotty brood pattern. I had a couple of treatments of Terramycin left over from last year and thus, I applied them to the hive and the bees prospered.
With that in mind, I have decided to treat my apiary this fall. So, being knowledgeable (I knew you cannot just buy it over the counter now) and proactive (I do not intend to use it until September probably) I went to my veterinarian with the label directions and had him write me a prescription for the Terramycin I needed. Afterwards, I ordered these medications from Mann Lake and emailed a scanned copy of the prescription. The Mann Lake representative, Tracy, replied with a nice email explaining why my prescription was unacceptable for processing.
I learned that a veterinarian's prescription is for medications like antibiotics that a pharmacy (usually the vet) would fill. What I needed was a Veterinary Feed Directive (VFD), commonly called a "feed mill" order, which deals in medicated feeds. Thus, to complete the ordering process with the bee supply vendor I needed a VFD form, not a prescription. So, Tracy kindly attached a blank VFD, a sample filled out VFD, and a digital copy of the Terra-Pro that I was trying to order. Finally, my local veterinarian completed the VFD form and I sent to the vendor for fulfillment. It is quite fun learning stuff with a good veterinarian like mine.
The moral of the story is this, according to the new laws, you need a properly filled-out VFD form to obtain the Terramycin. If you are considering this treatment method for your hives, then click on the following buttons to review and print your VFD form. Your veterinarian will need this form to process for the vendor to fulfill the order.
Blank VFD Form
SAMPLE VFD Form